unavailable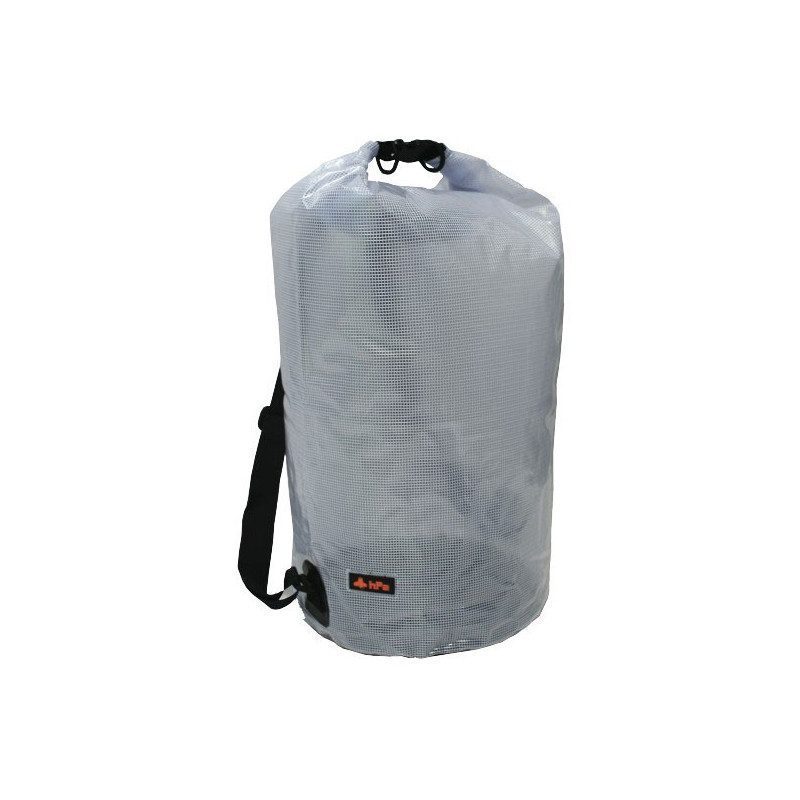 clear Unavailable product
Detailed features
A small, practical and durable 30 litre clear waterproof bag
This transparent 30 litre waterproof bag has a roll-up closure. Ideal for carrying a few valuables in damp or dusty environments. Made of 100% waterproof "tubes" with roll-up closure. Assembled seamlessly by HF welding, the products in the SWELL range from HPA are designed to protect their contents from the most extreme outdoor conditions.
Waterproof bag for water sports
The HPA Swell clear 30 litre waterproof bag is part of our collection of water leisure luggage (sailing, kayaking...) offering a small waterproof bag ideal for protecting your belongings from water. Picksea offers one of the largest selections of waterproof bags on the internet with a multitude of models and brands. You will easily find the type of waterproof bag you are looking for on our online store. The brand HPA is specialized in the waterproof luggage for the nautical industry.
Technical characteristics of the waterproof bag 30 liters transparent SWELL 30 CLEAR HPA
Outer material: PVC tarpaulin decitex
Removable shoulder strap for carrying as a backpack.
Covered by a 10 year warranty against all manufacturing defects.
In the same category
4 other products seleted for you
<h2>The infladry waterproof bag from hPa</h2> <p>The Infladry5 is a versatile bag, 100% waterproof thanks to its 420D TPU design and its famous zipper. The bag comes with a belt and a shoulder strap. Useful for all water activities such as Stand up, Paddle or kayak, but this bag will also accompany you in your activities in wet places. Its volume of 5 liters allows you to store your camera, laptop, papers, tablet ... while being perfectly protected from water and wind.</p> <h2>Features of the Infladry5 waterproof bag</h2>

available

<div class="fiche-txt"> <h2>A waterproof bag that can be converted into a backpack</h2> <p>This waterproof bag with welded seams and roll-up closure will keep your belongings dry. It can also be worn as a backpack thanks to its straps which can also be stored when not in use.</p> <h2>Features of the Shackelton Bag</h2> </div>

available

<div class="fiche-txt"> <h2>A waterproof backpack for your expeditions</h2> <p>This waterproof backpack has two outside pockets that can hold water bottles and one inside pocket. You will be able to adjust and adjust your backpack with the elastic chest strap and a waist belt. It is comfortable to wear thanks to its foam reinforcements on the back and shoulder straps.</p> <h2>Detailed features of the Rum Runner 71 waterproof backpack</h2> </div>

available

<div class="fiche-txt"> <h2>Waterproof iPad case</h2> <p>Aquapac's waterproof iPad case is a perfectly waterproof (IPX8) case adapted to the practice of nautical activities for the protection of your Apple iPad (touchscreen tablet). It is used by all professional skippers to be able to read the charts under the spray. Practical, 100% waterproof and flexible, this cover is truly an essential accessory for your iPad. Find all the marine equipment for boating on our Picksea shop.</p> <h2>Aquapac's waterproof iPad case</h2> <p>Want to take your iPad on the water but afraid that it will not be able to withstand the water? Aquapac has perfectly understood that a waterproof case would be the reference accessory to protect your iPad during any sea trip. Also, this model of waterproof case is really very practical to be able to launch its GPS and its marine cartography application on its iPad while protecting it in a waterproof case.</p> </div>

available