available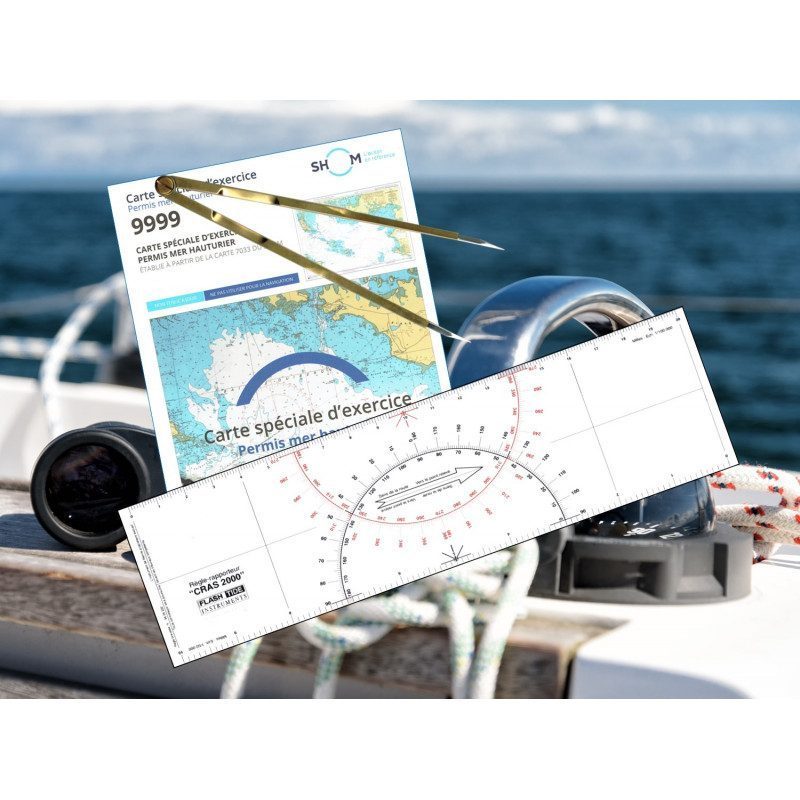 check_circle In stock
Detailed features
The essential pack to prepare your offshore licence
A set of quality tools to pass your offshore licence! Picksea is the owner of the Flash-Tide Instruments brand and our teams manufacture in France, in Lorient, all models of rules cras or Breton. Picksea is also a SHOM agent. We are therefore the best able to provide you with a pack composed of the best products at the best price.
Composition of the offshore licence pack
The Flash-Tide Instruments' offshore license pack includes all the tools needed to prepare and pass the offshore license extension exam:
The Cras 2000 two-tone rule which facilitates the reading and plotting of headings, routes and bearings (Flash-Tide brand made in France by Picksea).
The straight brass divider with fine stainless steel tips for more precise measurements (Flash-Tide brand).
12% discount compared to buying the same products separately. Free shipping.
Important reminders for the offshore licence exam :
The exam for the deep-sea licence takes place "on the table" and includes: 2 navigation exercises (each marked out of 6), 1 tidal calculation exercise marked out of 4 and MCQs (weather and GPS) marked out of 4. To pass, you must obtain an overall mark of more than 10/20 and a mark in the navigation exercises of more than 7/12.
The material for the examination must be brought by each candidate. You will need a ruler and a dry-tip compass of your choice, an official SHOM 9999 chart, a non-programmable calculator, pencils and eraser. The administration provides the examination paper and draft sheets.
Note: the card used for the examination is kept by the administration as a copy of the examination.
The two-coloured ruler is made of transparent PVC, size 380 x 110 mm
The SHOM 9999 chart A4 folded - A0 open
The 21 cm dry point compass: allows to measure up to 8 miles / minutes on the 9999 map
12% discount compared to buying the same products separately
In the same category
4 other products seleted for you