unavailable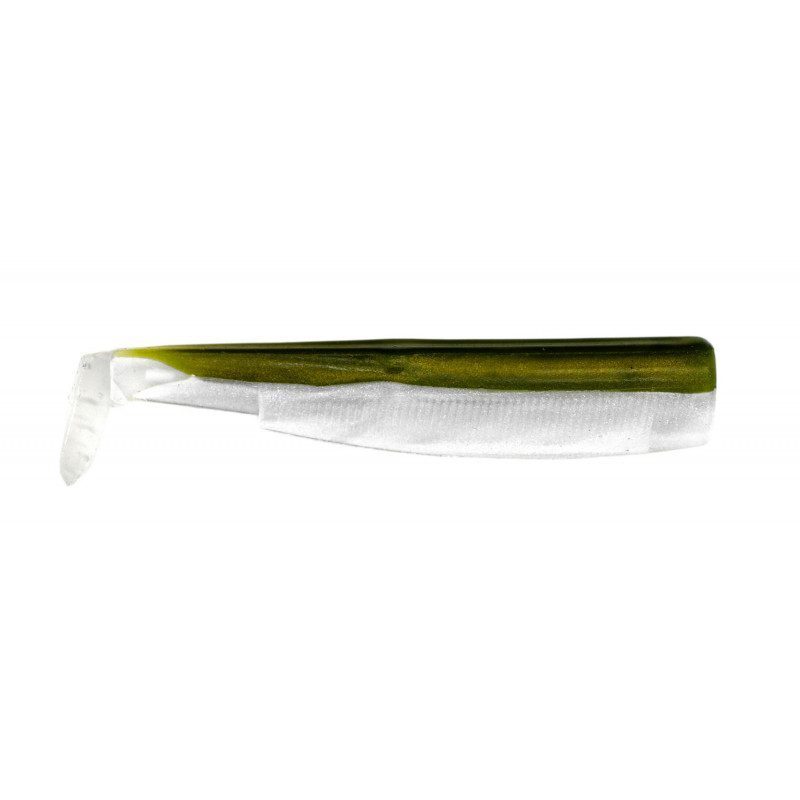 clear Please call us +33 297 11 80 95
Detailed features

Khaki coloured replacement bodies for Black Minnow 200
This set of 2 Khaki coloured lure bodies for the Black Minnow 200 allows you to replace the bodies of your lure after a failed attack or damage. The extra soft body can get damaged, but thanks to the ultra simple assembly of the Black Minnow system, use these replacement bodies to easily replace them.
The Black Minnow, an innovative extra soft lure developed in Brittany
Designed around three main features, the Black Minnow is a soft lure that is ultra simple to use and has amazing performance. A hidden Krog hook allows you to fish very close to the bottom without fear of getting hooked. The PH2S attachment system optimises the lure's swimming action and makes it easy to attach while ensuring a very effective hooking action. Its natural appearance and fluid swimming action: the extra soft plastic body of the Black Minnow® is closely linked to its lead head giving it a very natural swimming action and balance. Its translucent tail and colours enhance its mimicry.
Suitable for Black Minnow 200
Extra soft bodies Black Minnow 200
Khaki Color
Packs of 2 soft bodies
The 6 steps for the assembly of the Black Minnow
With the lead head upside down, insert the
the flexible body to the end without forcing.
Turn the lead head right side up so that it fits.
Put, if necessary, a glue point between the head and the body.
In
through the opening on the underside of the soft body, look for the
attachment system with the hook loop.
Walk the hook along the head attachment and check that it is in place.
Put the hook back through the soft body at the mark.
You might also like 4 other products seleted for you
<div class="fiche-txt"> <h2>Offshore lead heads for Black Minnow 70, 90, 120, 140 and 160</h2> <p>The Offshore Leaded Heads are longer and heavier than the Shore Heads. They also use the patented Krog hidden hook system which is very easy to attach. This system, called PH2S, increases the lure's longevity thanks to an excellent hold between the head and the body. It also makes mounting the lure much easier.</p> <h2>The Black Minnow, an innovative extra soft lure developed in Brittany</h2> <p>Designed around three main features, the Black <br />Minnow is a soft lure that is very easy to use and has <br />amazing performance. <b>A hidden articulated hook <br />Krog</b> allows you to fish very close to the bottom without <br />fear of <br />hang on. <b>Its attachment system <br />PH2S</b> allows to optimize the swimming of the lure and to facilitate the <br />and ensures high efficiency in the fitting process.<b>Sound <br />natural appearance and its fluid swimming</b> the extra soft body made of <br />Black Minnow® plastic tightly bound to its lead head <br /> give it a very natural balance and swimming. Its tail <br />translucent and its colors increase its mimicry.</p> </div>

available

<div class="fiche-txt"> <h2>Offshore lead heads for Black Minnow 70, 90, 120, 140 and 160</h2> <p>The Offshore Lead Heads are longer and heavier than the Shore Heads. They also use the patented Krog hidden hook system which is very easy to attach. This system, known as PH2S, increases the lure's longevity thanks to an excellent hold between the head and the body. It also makes mounting the lure much easier.</p> <h2>The Black Minnow, an innovative extra soft lure developed in Brittany</h2> <p>Designed around three main characteristics, the Black Minnow is a soft lure that is ultra simple to use and has amazing performance. A hidden Krog hook allows you to fish very close to the bottom without fear of getting hooked. Its PH2S attachment system optimises the swimming action of the lure and makes it easy to rig while ensuring a very effective hooking action. Its natural appearance and fluid swimming action: the extra soft plastic body of the Black Minnow® is closely linked to its lead head giving it a very natural balance and swimming action. Its translucent tail and colours enhance its mimicry.</p> </div>

unavailable

<div class="fiche-txt"> <h2>Shore Lead Heads for Black Minnow 70, 90, 120, 140 and 160</h2> <p>With an imitation khaki colour, shorter and lighter than the OffShore heads, the Shore lead heads also use the patented Krog hidden hook system which can be attached very simply. This system, known as PH2S, increases the lure's longevity thanks to the excellent hold between the head and body. It also makes mounting the lure much easier.</p> <h2>The Black Minnow, an innovative extra soft lure</h2> <p>Designed around three main features, the Black Minnow is a soft lure that is ultra easy to use and has amazing performance. A hidden Krog hook allows you to fish very close to the bottom without fear of getting hooked. Its large opening allows a wide range of use (Shad lures or thick lures). The PH2S attachment system optimises the lure's swimming action and makes it easy to attach while ensuring a very effective hook up. The Black Minnow®'s extra soft plastic body is closely linked to its head giving it a natural swimming action. Its translucent tail and colours enhance its mimicry.</p> <h2>Features</h2> </div>

available

<div class="fiche-txt"><h2>Krog Premium hooks for Black Minnow 70</h2><p>The Krog Premium hooks are designed for Black Minnow. More resistant and sharper than the traditional Krog hooks, this premium version is manufactured exclusively by VMC for the Brest-based company Fiiish. Hidden in the soft body of the lure, this hook with a large opening allows a great efficiency when hooking while avoiding the clinging to the bottom. This makes it possible to get to the bottom without losing a considerable number of lures... This hook can also be used for other lures than Black Minnow like other "Shad" or thick lures.</p></div>

available
In the same category
4 other products seleted for you
<div class="fiche-txt"> <h2>The Weather Watch waterproof salopette, new design : </h2> <p>The Weather Watch is a waterproof and breathable coverall. Welded seams, adjustable ankles and straps enhance comfort and ease of movement. The breathable, waterproof barrier provides durable protection and prevents overheating or sweating. It is used in a wide variety of fishing and adventure activities.</p> <h2>Detailed features of the Weather Watch waterproof salopette</h2> </div>

available

<div class="fiche-txt"><h2>Krog Premium hooks for Black Minnow 70</h2><p>The Krog Premium hooks are designed for Black Minnow. More resistant and sharper than the traditional Krog hooks, this premium version is manufactured exclusively by VMC for the Brest-based company Fiiish. Hidden in the soft body of the lure, this hook with a large opening allows a great efficiency when hooking while avoiding the clinging to the bottom. This makes it possible to get to the bottom without losing a considerable number of lures... This hook can also be used for other lures than Black Minnow like other "Shad" or thick lures.</p></div>

available

<div class="fiche-txt"><h2>Krog Premium hooks for Black Minnow 90</h2><p>The Krog Premium hooks are designed for Black Minnow. More resistant and sharper than the traditional Krog hooks, this premium version is manufactured exclusively by VMC for the Brest-based company Fiiish. Hidden in the soft body of the lure, this hook with a large opening allows a great efficiency when hooking while avoiding the clinging to the bottom. This makes it possible to get to the bottom without losing a considerable number of lures... This hook can also be used for other lures than Black Minnow like other "Shad" or thick lures.</p></div>

available

<div class="fiche-txt"><h2>Spare body in white for Black Minnow 90, 120, 140 and 160</h2><p>This set of 3 Black Minnow Mulch White lure bodies allows you to replace the bodies of your lure after a failed strike or damage. The extra soft body can get damaged, but with the ultra simple assembly of the Black Minnow system, use these replacement bodies to easily replace them.</p><h2>The Black Minnow, an innovative extra soft lure developed in Brittany</h2><p>Designed around three main characteristics, the Black Minnow is a soft lure that is ultra simple to use and has amazing performance. <strong>A Krog articulated hidden hook</strong> allows you to fish very close to the bottom without fear of getting stuck. <strong>Its PH2S attachment system</strong> This allows the lure to swim better and to be mounted more easily while ensuring a high efficiency when striking.<strong>Its natural appearance and its fluid swimming</strong> The extra soft plastic body of the Black Minnow® is closely linked to its lead head giving it a natural balance and swimming action. Its translucent tail and its colors increase its mimicry.</p></div>

unavailable