available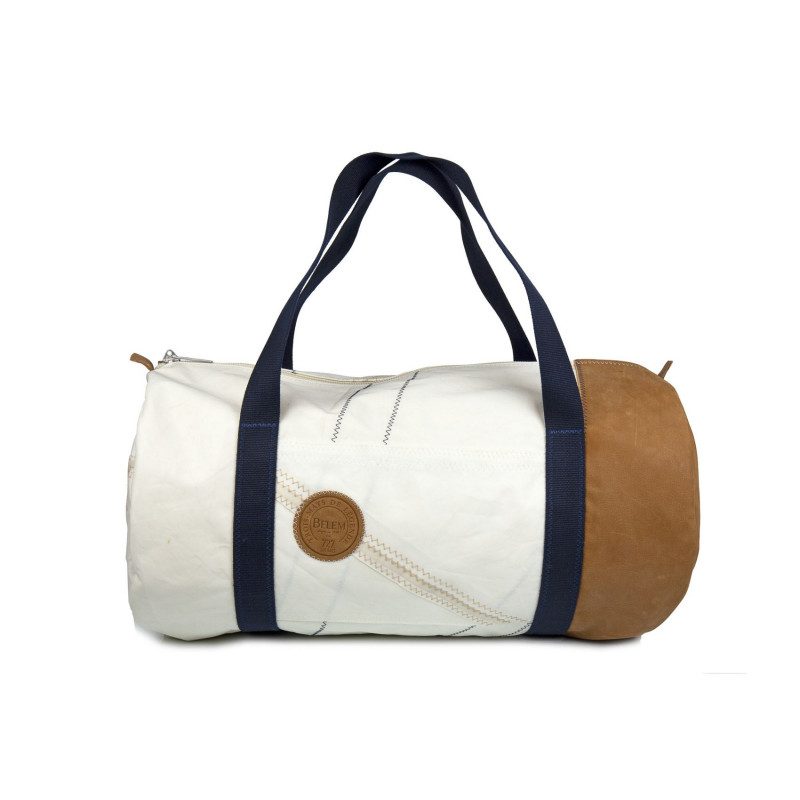 check_circle Shipped within 24h
Detailed features
A limited edition duffel bag made from BELEM sailcloth!
An exceptional collection ! Leather with a subtle touch and the robustness of recycled sails. Made from old sails reminiscent of classic yachts, the Belem x 727 Sailbags collaboration is undoubtedly the epitome of French elegance and authenticity.
The Onshore Belem is a travel bag made from 100% recycled sailcloth. It has a camel leather base. An authentication card sewn inside tells the story of the sail. Equipped with handles with a leather reinforcement, the bag is as comfortable to carry on the shoulder as it is to hold in the hand. This Onshore bag is the perfect companion for going to sea or on a trip. Large and practical, it is the ideal bag for your travels. With its harmonious colours and elegant cut, this model is the perfect partner for men and women. The little extra! You can use it as carry-on luggage.
This product is made from 100% recycled sails, which have sailed. This makes it a unique product, which may look different from the picture shown. In particular, we keep the traces, folds and seams that carry the history of each sail.
Features of the Inshore Belem travel bag
Length: 57 cm
Diameter: 29 cm
Volume: 45 L
Pocket 1: W9 x H15 cm
Pocket 2: L15 x H15 cm
Outside pocket: L20 x H26 cm
Sail collected and recycled in France
100% cotton lining
High resistance zipper and leather reinforcements
Cotton webbing handles, and leather handle with velcro
1 outside pocket with velcro
2 inside patch pockets
727 Sailbags leather logo stitched with the iconic Zigzag stitch
You might also like 1 other product seleted for you
<h2 style="text-align:justify;">The Sam, a beautiful urban handbag with a nautical look</h2> <p style="text-align:justify;">The Sam bag is the ideal handbag if you want to sport a nautical look all year round. This beautiful bag, practical with its zip and original because it is made from recycled sailcloth, has everything to please! An authentication sheet traces the history of the sail used to make it. Each bag is unique, and the sails used for its manufacture keep the traces, folds and marks of their navigations. The photo opposite is therefore not contractual and shows the general aspect and colours of the bag.</p> <h2 style="text-align:justify;">Detailed features of the 727 Sailbags Sam handbag</h2>

available
In the same category
2 other products seleted for you
<h2>Polochon sports bag by 727 Sailbags</h2> <p>Light and practical, the Polochon Flottille bag can be carried by hand or on the shoulder. Its elegant cut and soft rounded shape make it the ideal companion for short trips or for the gym. This model is also accepted in the cabin for your air travel. The duffel bag is made of 100% recycled boat sail. It is made of an acrylic canvas base and is enhanced by an orange spinnaker buoy sewn with our iconic zigzag stitch. </p> <p>About the Capsule Flottille: The seaside leaves unforgettable memories in our childhood. That's the spirit of this capsule, inspired by the "flotilla" buoys on our beaches, which mark the swimming areas.</p> <p><em>This product is made from 100% recycled sails, which have sailed. This makes it a unique product, which may look different from the photo shown. In particular, we keep the traces, folds and seams that carry the history of each sail. You can also find its little brother the Joe bag. </em></p> <h2>Characteristics of the duffel bag</h2>

available

<div class="fiche-txt"> <h2>Onshore Navy Travel Bag from 727 Sailbags</h2> <p>The Onshore Navy is a travel bag made from 100% recycled sailcloth. It has a navy blue fabric base, and a number sewn in with our iconic zigzag stitch. An authentication card sewn inside tells the story of the sail. Equipped with leather reinforced handles, the bag is as comfortable to carry on the shoulder as it is to hold in the hand. The Onshore bag is a faithful companion for all occasions. Whether you are going on a weekend getaway, to sport or to your activities, the Onshore travel bag has all the space you need to put your things. The little extra! You can use it as carry-on luggage.</p> <p><em>This product is made from 100% recycled sails, which have sailed. This makes it a unique product, which may look different from the picture shown. In particular, we keep the traces, folds and seams that carry the history of each sail.</em></p> <h2>Features of the Onshore bag</h2> </div>

available