unavailable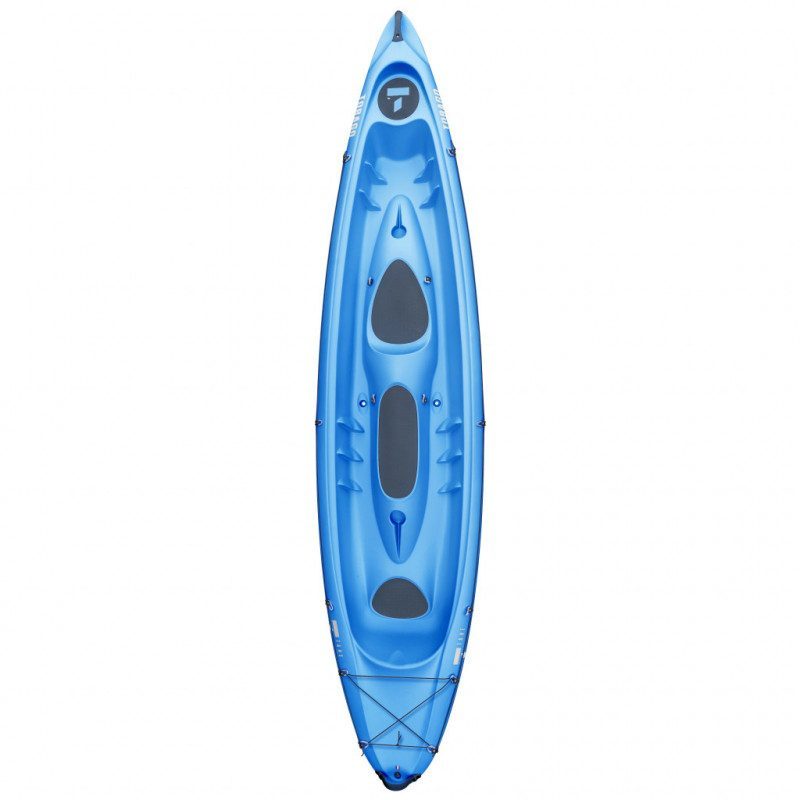 clear Unavailable product
Detailed features
The TOBAGO Sit-On-Top kayak from Tahé for the whole family
The Tobago is the ideal kayak for couples or families. Its different ergonomic seats allow several possibilities of arrangements and uses: you can sail as a couple, with 1 or 2 children. The "motorcycle saddle" type central seat is very practical to accommodate the child or children depending on their size/weight. It can also hold a bag or a water bottle for a duo ride. A hooking system is provided. As on the Bilbao, its THD "three-volume" hull combines glide and stability with the crew member of your choice, all with maximum comfort and safety. The Tobago is also very well equipped with a rear wheel for transport to parking lots, a shock absorbing heel at the front and elastic straps to secure the equipment. The seats are covered with EVA foam. This is a fast, stable and comfortable sea kayak.
The "THD" (Three Hull Design) hull shape has been designed to provide excellent glide and handling while maintaining stability. The particular design of the hulls, inspired by trimarans, creates a central section with fine water inlets for gliding and side sections that stabilise the boat without braking it. The intermediate concaves also improve performance.
The exclusive Twin Sheet Technology (TST) used to manufacture TAHE kayaks is made from thermoformed polyethylene sheets. The two parts of the deck-hull are formed and assembled in a single operation. The result is a unique and very strong material. The assembly is invisible and safe. This process, more rigid, lighter and better finished than roto-moulding, is treated against UV. Highly resistant to shocks and scratches, it ensures that TAHE kayaks are exceptionally durable.
Tobago kayak characteristics
Capacity: 2 persons OR 2 persons + 1 child
Maximum load: 250 kg
Complete dimensions: 395 cm x 84 cm
Weight: 70 lbs / 32 kg
Beginner to intermediate level
Elastic net at the front to store material
Colour Blue / Grey
Shape Sit on Top
Empty fast
Plugs not supplied
Footrest: Fixed footrest 3 levels
Front/rear carrying handles for easy transport
Integrated lifeline
TST Technology
Product type: Rigid - Thermoformed
Made in France
You might also like 1 other product seleted for you
<div class="fiche-txt"> <h2>The Bic Sport kayak transport cart</h2> You are equipped with a Sit-On-Top, Sit-In kayak, modular or not, but you have difficulties to transport it to the water's edge? The <strong>transport trolley</strong> is for you! <br /><p>Can carry a maximum load of 80 kg, <strong>the transport trolley</strong> is a compact, lightweight and economical cart designed for transporting single or two-seater kayaks. Intended for short transports and compatible on hard ground or beach.</p> <h2>Characteristics of the Bic Sport kayak transport trolley</h2> </div>

available
In the same category
4 other products seleted for you