available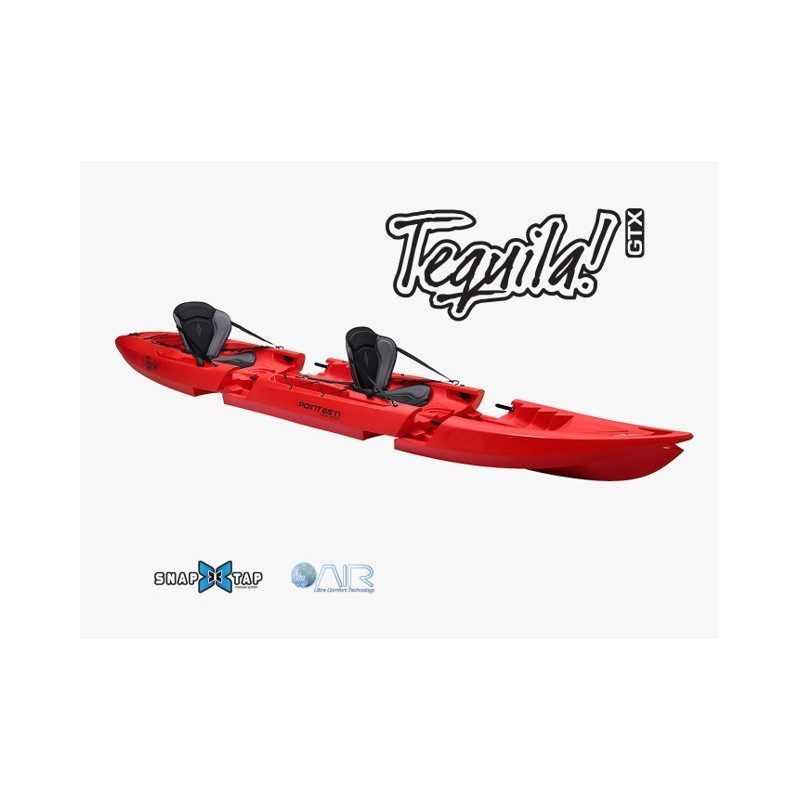 Detailed features
Go with friends with this modular kayak Tequila GTX Duo
With the
Tequila duo
Enjoy moments of pure fun with friends or family. More stable than its little brother, the Tequila Solo, it is also more powerful in terms of speed. Very maneuverable, and with a very good wind grip, this kayak is ideal for kayakers of all levels. At ease in the sea, lake or river, the
Tequila kayak
will not disappoint you. Unlike other modular kayaks, the
Modular kayak Tequila duo
has the advantage of being homologable
sea kayaking
(Div.240)
According to division 240, any kayak over 4 meters long can be approved as a sea kayak. After registration with the maritime affairs, this will give you the right to navigate more than 300 meters from a shelter, up to 2 miles or 6 miles with the mandatory safety equipment.
Tequila: An innovative and versatile range!
With this range, you will transport your kayak with extreme simplicity. You can go from 1 to 2 seats, or to 3 seats, or even more in a blink of an eye! Their seating position provides a real comfort that your buttocks will remember.
Characteristics of the Tequila Duo modular kayak
Wearing a lifejacket is recommended
AIR-Seat™ ultra comfort
Smaller footprint
1 strong and durable polyethylene layer
Multiple footrests
Unique "Snap-Tap" locking system
Section length: 163 - 169 cm
Total length: 416 cm
Width: 75 cm
Weight: 35 kg
Capacity: 240 kg
In the same category
4 other products seleted for you