available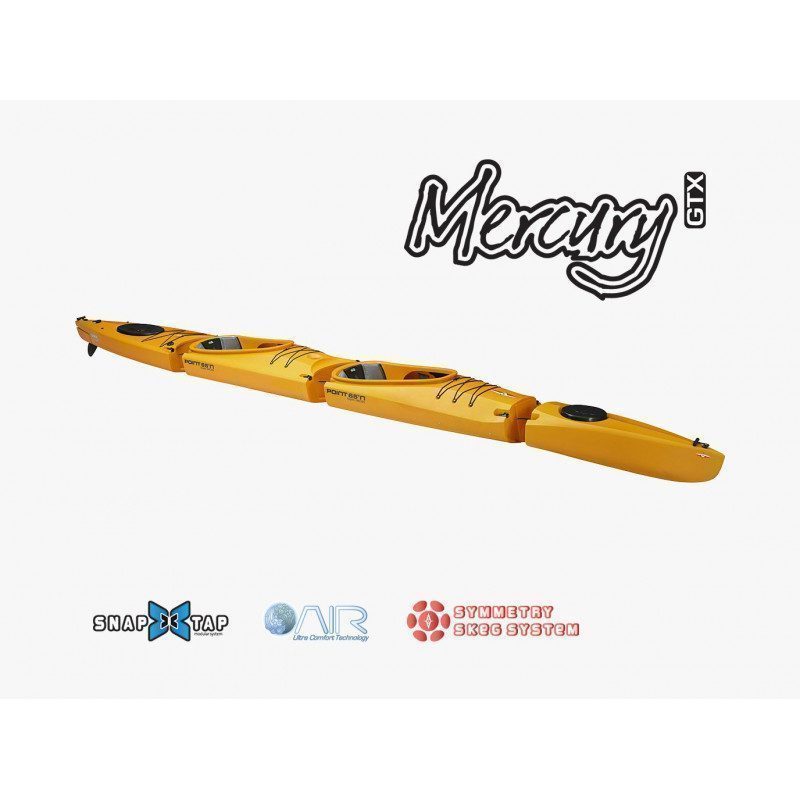 error Shipped according to supplier's deadline
Detailed features
A modular kayak to sail alone or in duo with Mercury Duo
The Mercury Tandem kayak has been designed to improve your performance as a couple. Its wind grip and wave behaviour make it an exceptional performance tool. Stable, fast, and very maneuverable, this kayak combines the right characteristics to have fun on the sea, lake or river.
A very well designed range
The Mercury range is extremely well thought out. Mixing performance and design, it will accompany you on the water without exhaustion.
Detailed features of the Mercury Duo modular kayak
Wearing a lifejacket is recommended
Smaller footprint
1 strong and durable polyethylene layer
Super comfortable seat cushion
Multiple waterproof compartments
Waterproof rudder
Cup holders
Unique "Snap-Tap" locking system
Section length: 107 - 163 cm
Total length: 543 cm
Width: 60 cm
Weight: 35 kg
Capacity: 280 kg
You might also like 3 other products seleted for you
<div class="fiche-txt"> <h2>A dream come true with the Martini Duo modular kayak?</h2> <div class="fiche-txt">You dream of going on an expedition with two people in a kayak, but it seems too complicated? The <strong>kayak Martini Duo</strong> is here to make your life easier. Just like our entire range of <strong>modular kayaks</strong>It is very practical. You will be able to transport it very easily in your car. Stable, powerful, easy to handle, it has all the necessary characteristics to be a reference in its category.</div> <h2>A range of kayaks ideal for long voyages</h2> <div class="fiche-txt">The Martini range offers very functional, comfortable and easy to handle kayaks.</div> <h2>Characteristics of the Martini Duo modular kayak</h2> </div>

available

<div class="fiche-txt"> <h2>The more the merrier!</h2> <div class="fiche-txt">Get an extra section of the range <strong>Mercury</strong>You will be able to enjoy the exceptional performance of this new <strong>kayak</strong> as well at ease on sea as on lake or river.</div> <h2>A revolutionary range of modular kayaks</h2> <div class="fiche-txt">Performance and design go hand in hand in the Mercury range from Point 65°N. With one stroke of the paddle, these kayaks will charm and seduce you.</div> <h2>Features of the Mercury range extra section</h2> </div>

available

<div class="fiche-txt"> <h2>The Bic Sport kayak transport cart</h2> You are equipped with a Sit-On-Top, Sit-In kayak, modular or not, but you have difficulties to transport it to the water's edge? The <strong>transport trolley</strong> is for you! <br /><p>Can carry a maximum load of 80 kg, <strong>the transport trolley</strong> is a compact, lightweight and economical cart designed for transporting single or two-seater kayaks. Intended for short transports and compatible on hard ground or beach.</p> <h2>Characteristics of the Bic Sport kayak transport trolley</h2> </div>

available
In the same category
4 other products seleted for you