available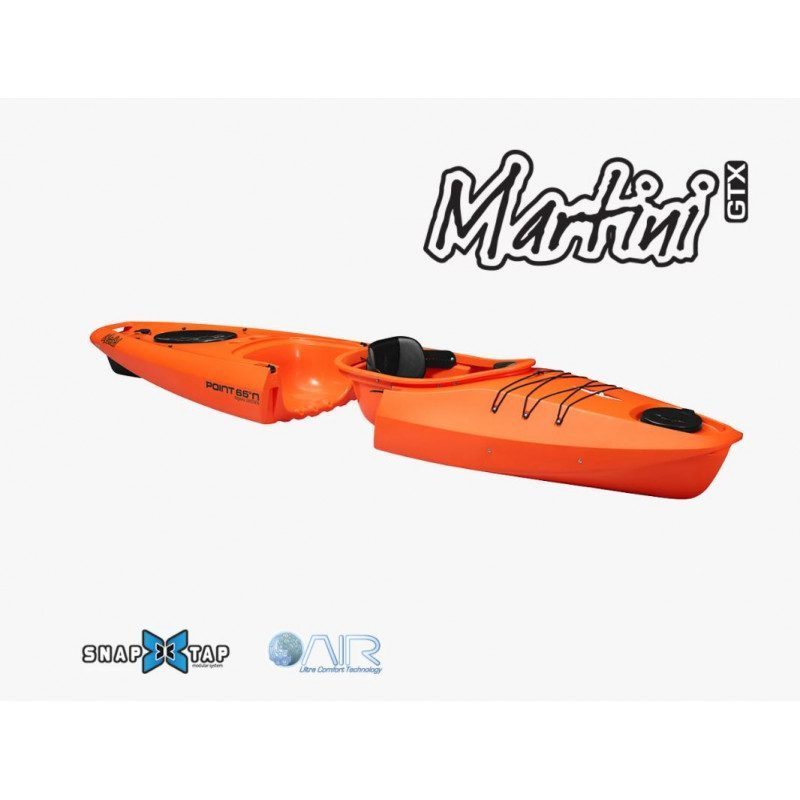 error Shipped according to supplier's deadline
Detailed features
The Martini Solo modular kayak: ideal for long voyages
The Martini Solo kayak is ideal for touring with its comfortable cockpit. Agile, maneuverable and stable, this modular kayak will convince you, whether you are a beginner or an expert kayaker. Its very good wind grip and its behaviour in waves make it a reference in its category. Do you want to fish? Well, that's not a problem anymore! The modular kayaks in this range have a space reserved for two rod holders at the back of the seat. So you can enjoy this opportunity offered by the Martini range alone or with others.
Discover the Martini range from Point 65°N
This range offers a spacious cockpit that adapts to all body types and numerous watertight storage hatches. Its stability and integrated rudder will quickly give you confidence.
Characteristics of the Martini Solo modular kayak
Wearing a lifejacket is recommended
Smaller footprint
1 strong and durable polyethylene layer
Super comfortable seat cushion
Multiple waterproof compartments
Integrated rudder
Unique "Snap-Tap" locking system
Integrated cup holders behind the cockpit
Space for paddles on the left side
Section length: 142 cm
Total length: 285 cm
Width: 70 cm
Weight: 22 kg
Capacity: 100 kg
You might also like 3 other products seleted for you
<div class="fiche-txt"> <h2>3 people = 1 kayak, 4 people = 1 kayak,... is it possible?</h2> <div class="fiche-txt">Well yes! You want to go on a kayak trip with 4 people but you don't have 4 kayaks? Don't worry, with the <strong>modular kayaks</strong> of the range <strong>martini</strong>Simply purchase an additional section to increase the capacity of your <strong>kayak</strong>. There is no limit, and you will even save money.</div> <h2>Discover the range of Martini modular kayaks</h2> <div class="fiche-txt">This range offers the possibility of enlarging the kayak according to the number of people who want to sail on it. Very stable, practical and easy to use, these kayaks will satisfy you.</div> <h2>Features of the additional Martini section</h2> </div>

available

<div class="fiche-txt"> <h2>Mercury Solo modular kayak</h2> <div class="fiche-txt">The Mercury Solo kayak is designed for all types of kayakers. Extremely well designed, this kayak is very stable, easy to handle and behaves particularly well in waves. Its 5 meters length is not a problem to store it easily: it fits in a trunk thanks to its modularity!</div> <h2>Discover the Mercury GTX range from Point 65°N</h2> <div class="fiche-txt">With the success of the modular kayaks, Point 65°N has developed a new range of kayaks with even better performance. Mercury GTX offers outstanding performance and a design that is sure to please.</div> <h2>Features of the Mercury Solo modular kayak</h2> </div>

available

<div class="fiche-txt"> <h2>The Bic Sport kayak transport cart</h2> You are equipped with a Sit-On-Top, Sit-In kayak, modular or not, but you have difficulties to transport it to the water's edge? The <strong>transport trolley</strong> is for you! <br /><p>Can carry a maximum load of 80 kg, <strong>the transport trolley</strong> is a compact, lightweight and economical cart designed for transporting single or two-seater kayaks. Intended for short transports and compatible on hard ground or beach.</p> <h2>Characteristics of the Bic Sport kayak transport trolley</h2> </div>

available
In the same category
4 other products seleted for you