unavailable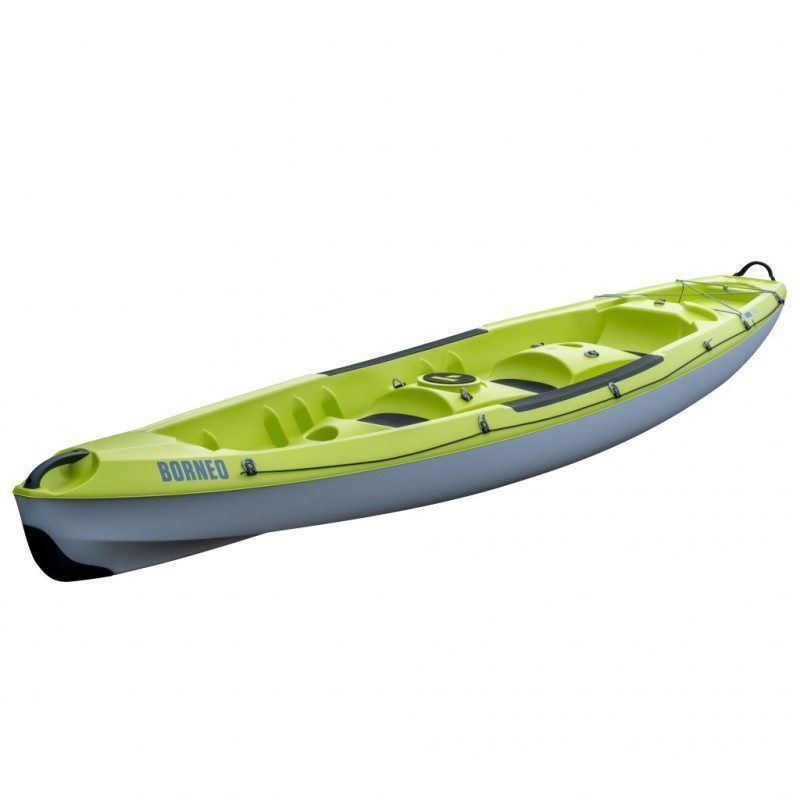 clear Unavailable product
Detailed features
The Sit-On-Top kayak BORNEO from Tahé for the whole family
The Borneo is a double Sit-On-Top kayak that brings many innovations, including the possibility of using it solo with the same paddling comfort as a double. Its innovative shape with generous dimensions gives it a good glide while keeping a comfortable stability. It is also equipped with an important rear volume with a large storage platform. The innovation is also found in the equipment with an integrated rolling system that can be assembled and disassembled in less than 2 minutes. There is also a compartment in the deck to store the wheels when sailing. The Borneo can be converted into a sea kayak. A reference in its category!
The THD (Three Hull Design) hull shape has been designed to provide excellent glide and handling while maintaining stability. The special hull design, inspired by trimarans, creates a central section with fine water inlets for gliding and side sections that stabilise the boat without braking it. The intermediate concaves also improve performance.
The exclusive Twin Sheet TST technology used to manufacture TAHE kayaks is made from thermoformed polyethylene sheets. The two parts of the deck-hull are formed and assembled in a single operation. The result is a unique and very strong material. The assembly is invisible and safe. This process, more rigid, lighter and better finished than roto-moulding, is treated against UV. Highly resistant to shocks and scratches, it ensures that TAHE kayaks are exceptionally durable.
Characteristics of the Borneo kayak
Capacity 1 adult OR 2 adults OR 2 adults and a child in the centre
Beginner to intermediate level
Complete dimensions: 410 cm x 84 cm
Weight: 75 lbs / 34 kg
Maximum Load: 550 lbs / 250 kg
Colour Green / Grey
Shape Sit on Top
Front/rear carrying handles
Integrated lifeline
Empty fast
Plugs not supplied
Footrest: fixed footrest 3 levels
TST Technology
Product type: Rigid - Thermoformed
Made in France
In the same category
4 other products seleted for you