How to choose your life jacket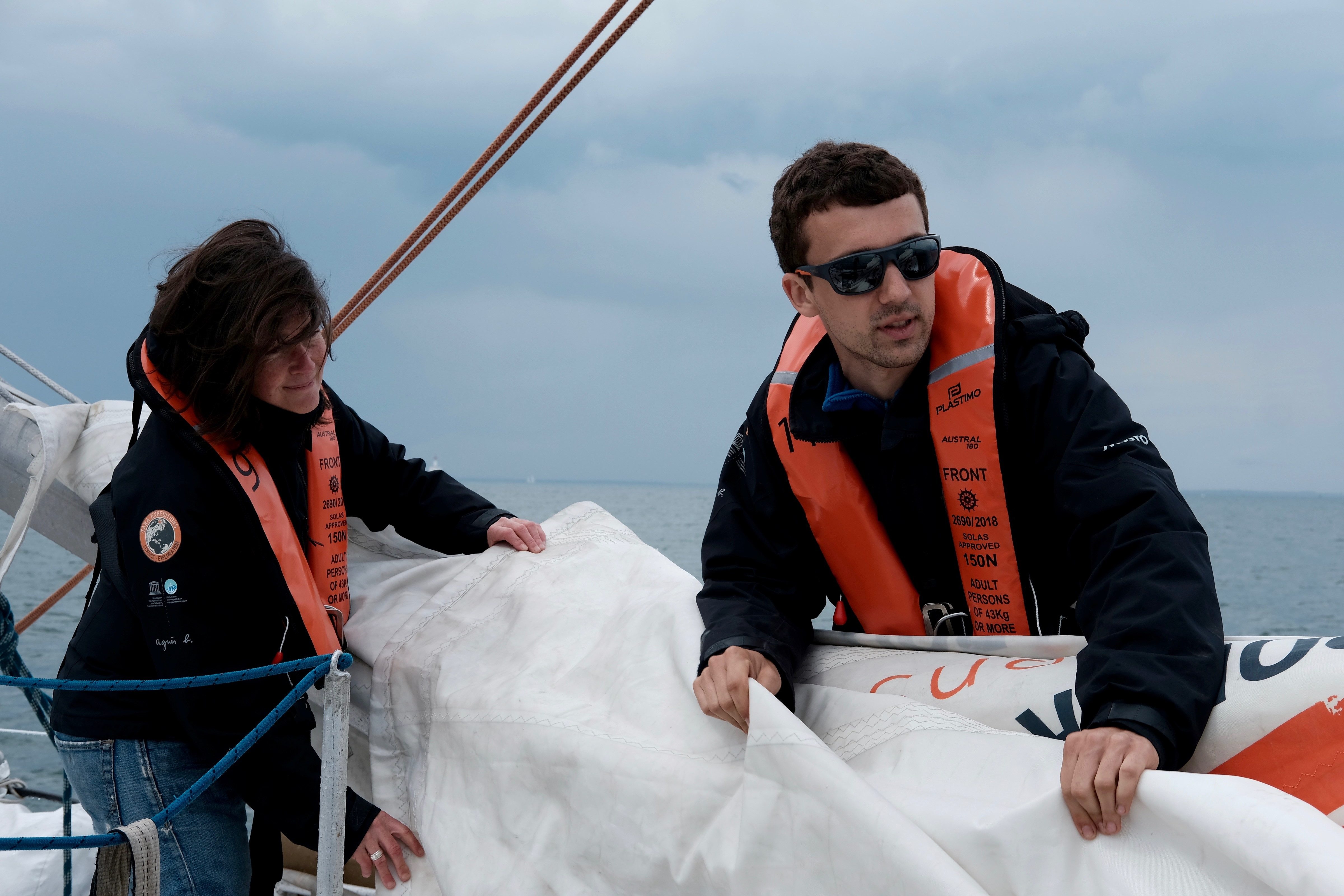 Nothing is more important than the safety of the sailor, the boater or the navigator when sailing. The Picksea experts offer you to discover all the criteria to choose the most adapted life jackets and armbands to your navigations and your nautical practice. The first thing to know is that it is the responsibility of the skipper to make sure that all the passengers have on board a life jacket to the standards, in working order and adapted to their morphology
The standards in force
As far as standards are concerned, all lifejackets must be approved and have a conformity label sewn onto the lifejacket: in particular, it must be checked that the label bears a conformity number such as EN xxx or ISO and/or a CE logo. This guarantees that the vest has been designed and manufactured according to the European and/or international standards in force and that it has been approved by the competent authorities
It can be noted that the SOLAS marked vests ("helm" logo), which are normally intended for professional navigation, are valid for pleasure boating.
There are 4 levels of approval to measure the effectiveness of a vest in Europe: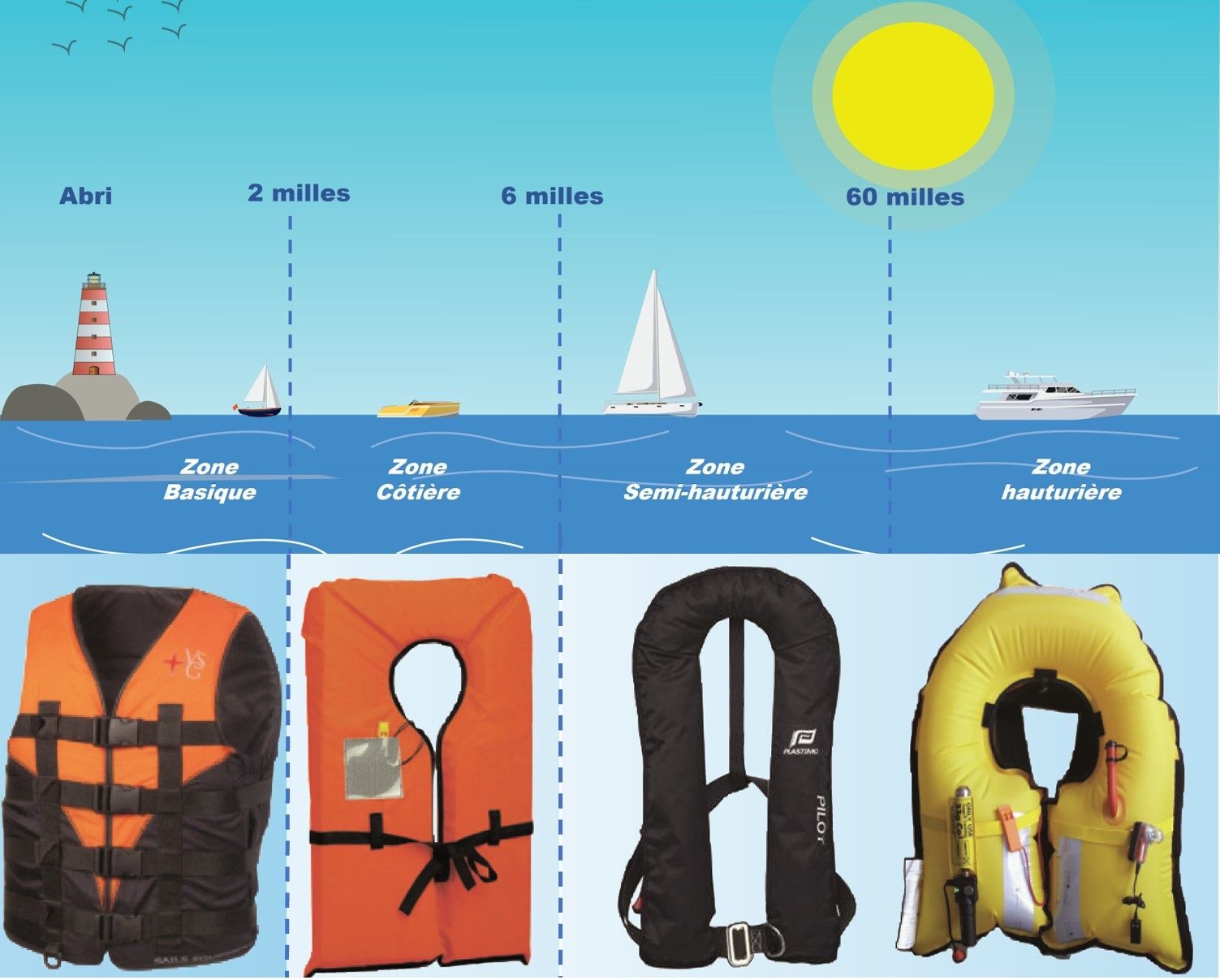 50 Newtons                                    100 Newtons                                    150 Newtons or 275 Newtons
ISO 12402-5 or EN 393                ISO 12402-4 or EN 395                ISO 12402-3 or EN 396 ISO 12402-2 or EN 399
One of the main criteria for this approval is the buoyancy efficiency of the vests. Thus, a vest stamped 50 Newtons means that it helps buoyancy up to 50 Newtons according to the weight of the wearer indicated on the vest.
The higher the buoyancy index of a vest, the more effective it is
Below 100 N = Buoyancy aid vest.
Above or equal to 100 N = Lifejacket
Standard
EN ISO 12402-5
(ex EN393)
EN ISO 12402-4
(ex EN395)
EN ISO 12402-3
(ex EN396)
EN ISO 12402-2
(ex EN399)
Buoyancy index
50 newtons
100 newtons
150 newtons
275 newtons
Use
In calm water or near a rescue station
In protected water or in coastal navigation
Offshore navigation
Offshore navigation + navigation in extreme conditions.
Characteristics
Does not ensure rollover. Ensures that the airway is kept out of the water for a conscious person.
Ensures a turn over on the back in 10 seconds. Suitable for people without bulky clothing
Turns over on its back in 5 seconds. Suitable for people with no more than a raincoat.
Turns over onto the back in 5 seconds. Also suitable for people with very heavy clothing.
The vest must be able to hold the head on the sides and back, even when the wearer is unconscious.
Criteria for choosing a lifejacket
By activity
Whether you are kayaking, sailing or fishing, the standards are different and the safety of the wearer requires a lifejacket adapted to the activity. The further away from the coast you go, the more important it is to choose an effective vest that allows you to be seen in case of a fall into the water.
Sailing, sports and nautical activities within 2 miles of a shelter:

Buoyancy aid vest either 50 Newtons minimum
Coastal navigation (up to 6 miles from a shelter) : 100 N minimum or 150 N if the vests are actually worn and each one is equipped with a means of identification light.

Pleasure boating more than 6 miles from a shelter or professional boating with medium-weight clothing:

150 N minimum.

Boating more than 6 miles from a shelter or professional navigation with heavy clothing and/or tools:

275 N minimum.
According to weight and size
The European standards for evaluating the buoyancy of a lifejacket apply by default for people weighing 70 kg. However, the effectiveness of a lifejacket changes according to the weight and size of the persons. The table on the right shows the buoyancy equivalents according to your weight in relation to the standard (left column).
| | | | | |
| --- | --- | --- | --- | --- |
| Buoyancy index (newton) / Adult weight (kg) | 40-50 kg | 50-60 kg | 60-70 kg | >70 kg |
| 50 N | 40 | 40 | 45 | 50 |
| 100 N | 60 | 70 | 85 | 100 |
| 150 N | 90 | 110 | 130 | 150 |
| 275 N | 170 | 200 | 230 | 275 |
For example, a 55 kg person wearing 110 N has a buoyancy equivalent of 150N.
Also note that the size or waist size is an important point to look at on the compliance label of the life jacket as it can vary on the same model.
For children under 30 kg, the models must imperatively be of the 100 Newtons category. It allows to protect them by putting them on their back even if they are unconscious or if they cannot swim.
According to the characteristics
In order to protect oneself once at sea, life jackets must be practical and comfortable. There are 3 very different types of lifejackets. Each of them has special features such as automatic inflation, freedom of movement for the wearer.
Inflatable vests
These vests inflate automatically but can be activated either manually or automatically or with a hydrostatic system. They are used for coastal, offshore or professional boating.
The automatic inflatable jackets the so-called salt pellet vests are vests that inflate as soon as the wearer falls into the water. The salt tablet device contained in the vest melts instantly on contact with water, thus freeing the cartridge's firing pin for immediate inflation. The salt tablet is only sensitive to total immersion and will not trigger an untimely inflation during your maneuvers in the spray or rain or when rinsing the equipment (provided that water does not penetrate the mechanism). A dry storage is however strongly advised.
The hydrostatic inflatable vests hammar vests are vests that inflate as soon as the wearer falls into the water. The Hammar device is sensitive to water pressure when immersed and releases the cartridge's firing pin for immediate inflation. The Hammar system is only sensitive to a certain water pressure and does not risk any untimely inflation when the wearer is showered by the spray or rain or when the equipment is rinsed thoroughly. This vest can be stored in any humidity conditions.
Foam vests
These are more suitable for "wet" water sports and for coastal navigation. In this category, there are life jackets (usually 100 N) that have buoyancy on the head and belly to allow the person to turn around. There are also buoyancy aid vests (generally 50 N) which do not have buoyancy on the head and do not allow the person to turn over: these vests are more suitable for water sports activities such as jet-skiing, kite-surfing, light sailing, etc.
Accessories for lifejackets
Life jackets can be completed with other safety equipment to ensure better location in the water for example. Thus, several items are strongly recommended and others are mandatory for the most performing lifejackets.
Standard 150 N and more: Mandatory hauling handle
However, there are other useful objects that can save your life as soon as the sea gets a little rough or to help you to be spotted. Thus, there are flashlights that allow you to be seen even in the dark, anti-burn masks to protect your face once in the water and finally PLB (personal locator beacon) which are individual distress beacons that allow you to be detected (to be used as a last resort).
Regulatory reminder on the characteristics of personal flotation devices (Article 240-2.16 of Division 240):
I. Personal flotation devices (PFDs) on board ships, boats and pleasure craft are adapted to the morphology of the persons embarked. When not worn, they shall be stowed in such a way that they can be accessed quickly and easily.
II. Only the following may be taken on board, depending on their buoyancy characteristics
- life jackets approved in accordance with division 311 of these regulations and marked "wheel bar" ;
- personal buoyancy equipment that complies with the relevant provisions of the sports code and is marked "CE".
Source LegiFrance: Order of May 6, 2019 replacing the order of November 23, 1987 on the safety of ships (division 240)
Our advice
Life jackets have a limited life span, store them preferably in a dry place and away from light.
Just like watch jackets or neoprene suits , always rinse with fresh water after use. The vest will last longer and will not lose its qualities.
Always check your vest before use, as on a motorcycle helmet, the slightest damage can be fatal. Do not hesitate to have it checked by another person.
Linked products
<h2>The reference lifejacket for racing and offshore use</h2> <p>The Deckvest is THE top of the range lifejacket for ocean racers and marine professionals. Awarded for its innovation, the Spinlock lifejacket/harness impresses with its reliability and comfort. Equipped with a hood, harness loop, knife and flashlight, it is one of the only lifejackets suitable for ocean racing such as the Mini Transat or Transquadra.</p> <h2>Optional: the new HRS release system </h2> <p>Staying connected to the boat is definitely safer than being in the water and the use of a safety line is actively encouraged. However, in the event of a fall overboard, an injured person may find themselves dragged / trapped alongside or behind the vessel. A situation that can be difficult to free oneself from. The Spinlock Harness Release System (HRS) is a new innovation that allows the user to disconnect from the safety line by releasing a lever behind the soft loop safety line attachment point of the lifejacket harness.</p> <h2>Features of the Deckvest 170N UML Spinlock Deckware</h2>
available
<h2>Automatic lifejacket  SLR 196 with harness :</h2> <p><span style="color:#58585a;font-family:Montserrat, sans-serif;font-size:14px;background-color:#ffffff;">Lightweight, comfortable, and high performance, the SLR 196 Newtons, with harness and double crutchstrap, has all the assets to be chosen by Sailors or the sailing elite.</span></p> <h2><span style="color:#58585a;font-family:Montserrat, sans-serif;font-size:14px;background-color:#ffffff;">Caracteristics of the Automatic lSLR196 lifejacket :</span></h2>
available
<div class="fiche-txt"> <h2>Safety assured with the CrewFit life jacket for kids!</h2> <p>We are always looking for the safest for our children, this lifejacket from Crewsaver ensures optimum safety, especially with the unique bladder design with chin support and its harness that helps prevent your child from falling into the water. This lifejacket is suitable for children between 20 and 50kg and has a UML (automatic) trigger that will automatically inflate the lifejacket on contact with water.</p> <h2>Features of the Crewsaver CrewFit 150N Junior Life Jacket</h2> </div>
available