How to choose your offshore jacket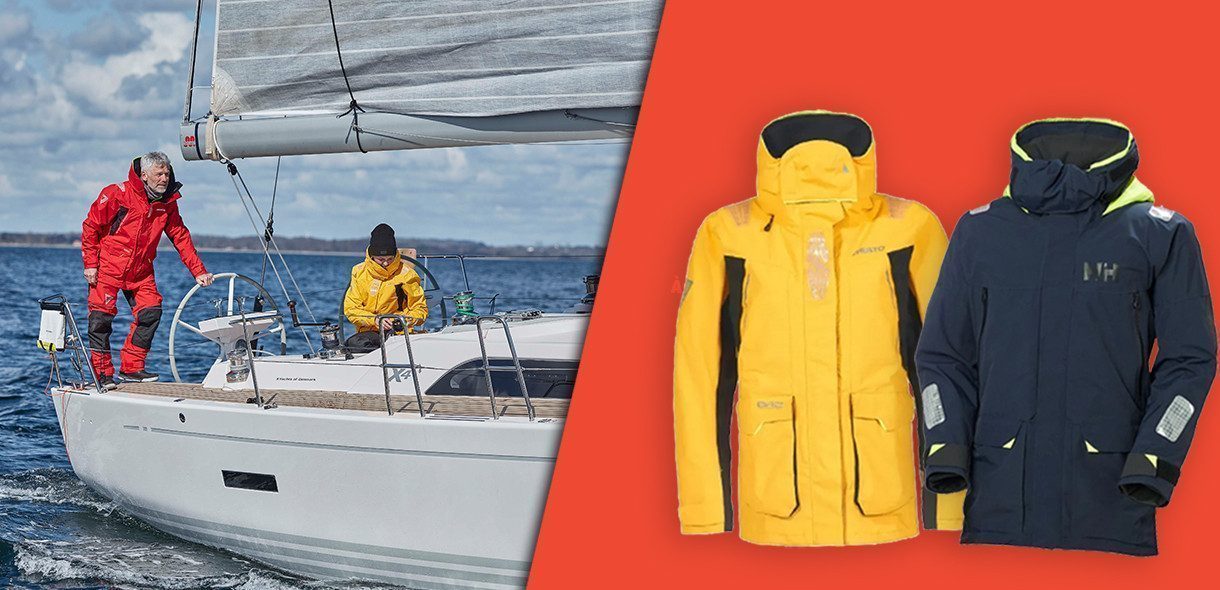 How to choose the best offshore jacket?
The sailing jacket is the essential equipment to protect yourself from the cold, wind and water when boating. It is all about choosing the right clothing for your navigation and your practice. To help you in your choice, Picksea gives you its advice to find the right sailing vest that will protect you in all conditions. Depending on your activities, the frequency and the comfort you are looking for, find our selection of offshore jackets.
Waterproofness and breathability: the most important qualities of a good offshore jacket!
Essential for a good session at sea, offshore jackets avoid a lot of inconvenience. Being soaked makes you more sensitive to wind and cold, which can spoil your pleasure, especially in winter. Therefore, in addition to the effectiveness of a waterproof garment, it is important to be comfortable at all times. Firstly, the jacket must allow freedom of movement for sailing and then, secondly, wick away perspiration to stay dry and keep the sailor "warm".
In fact, the essential qualities of a good offshore jacket are:
Waterproofing,
Breathability,
The fit and comfort.
These characteristics are more or less effective depending on the materials used, the technologies and the quality of assembly (especially at the seams). However, since each offshore jacket is designed to meet these qualities, it is more judicious to choose it according to the use you will make of it.
A jacket for what purpose?
According to your activities, there are 3 types of shift vests that differ in their effectiveness:
Coastal cruise watch jacket
For an occasional or regular practice, it is crucial to wear a sailing jacket. A real protective shell against rain, sea spray, wind and cold. It lets the water vapour emitted by the body escape during the effort. Lighter than the offshore jacket, its real asset lies in its comfort. The more waterproof and breathable the jacket fabric, the more comfortable it is to wear. The lighter it is, the more flexible and ergonomic the jacket will be for daytime use. This is the main characteristic of the coastal jackets, which are more flexible and less bulky, to allow greater freedom of movement.
Its characteristics are to block water ingress in one direction and complete the process of transferring perspiration outwards in the other direction. There are several types of textiles for this purpose, from the least technical (1 layer) to the most elaborate (3 layers), among different product ranges. More affordable than offshore jackets, they are less efficient but more suitable for occasional use and daytime sailing programmes. To avoid water ingress, the collars are high, the cuffs have double sleeves and the zips are protected by flaps. The hood and collar are designed for sailing in rain and heavy conditions.
Offshore vest for deep-sea cruising
Recommended for yachting or regattas, where the sailor may encounter strong conditions (rain, strong wind, sea spray, waves), it must be faultless both in its performance and comfort over a period of 2 to 5 intense days. Their cuts are particularly all-encompassing to enable them to face the sea when the weather gets rough. We talk about a real carapace or shell to face difficult conditions. The sleeves are lined, the double collar is raised to guarantee protection against wind and sea spray, the reinforcements are more effective inside, but above all, the jackets have reflectors and high visibility parts to make it easier to spot the sailor and improve safety.
Intensive cruise/regatta or oceanic offshore jacket
These jackets, with a budget of between 400 and 1000 euros, have the main characteristic of being made of fabrics incorporating a membrane. This one brings a perfect waterproofness and this for an exceptional duration. Designed for intensive use, these offshore jackets protect the sailor in extreme conditions for cruising or racing for a week or more. The lifespan of these professional products is also greatly extended due to more robust materials and careful cutting. The major brands known in this field such as Guy Cotten – Helly Hansen - Marinepool – Musto or SLAM use membranes to perfect the waterproof and breathable qualities of these offshore products. The best known of these membranes is GORE TEX, a registered trademark that ensures excellent performance for oceanic offshore jackets. It is mainly used by the brands MUSTO, HENRI LLOYD, but also by Adidas Sailing. The principle is the same in the other brands, simply the membrane is not called the same (Dremtech, HellyTech, Ocean Technology, ...).
Are smocks an alternative?
Sailing jackets have exactly the same properties as the offshore jackets in the above categories, except that they have no front zip and a fitted collar which greatly increases waterproofness and flexibility. Lighter, more suitable for racing or regattas, the jackets are particularly suitable for fast boats which are very wet or for crew members on the bow during regattas. Peaches are indeed more waterproof because their collar prevents water from taking in from above, but they are less versatile because you have to either put them on or take them off - you can't wear them halfway!
Dry suits = extreme protection
Offshore dry suits are the most extreme form of protection at sea. Designed to be totally waterproof (hence the term "dry"), they are particularly aimed at professionals and pro skippers as safety or survival equipment. With reflective stripes in fluorescent colours, they ensure essential safety for those who wear them.
With additional reinforcements but above all with the best materials on the market (Gore-Tex Pro - Dremtech - Ocean Technology ...), the dry suits offer incomparable protection and the best comfort, even in case of a fall in the water. They are therefore suitable for professionals who navigate in cold and perilous environments.
The different jackets
Coastal sailing jackets coastal

emphasize lightness, comfort for a very affordable price (Count between 150 and 250 euros approximately). This is the first effective protection against rain and wind for the occasional practice of boating or water sports. As soon as the weather turns bad, you are dry and in a breathable jacket to evacuate perspiration. This level of protection is suitable for a day's sailing in the rain. For regular practice more exposed to the elements, you should choose a 2 layer or 3 layer jacket.
The "2-layer" coated sailing jackets, known as cruising jackets

, are the best in waterproofing and breathability without the use of membranes (3 layers). The budget is about 250 to 350 euros. The coating provides very good performance for exposed sailing for about 3 to 5 days. These sailing jackets are designed for cruising, regattas and leisure boating. Waterproof sleeves, deep-sea collar, high-visibility hood, reflective patches, all these models have characteristics of deep-sea cruising jackets guaranteeing great comfort.
The "3 layers" technology called "membranes"

corresponds to a more intensive use on boats, cruising, regattas or regular use for professionals in the nautical industry. Budget from 400 to 1000 euros for the pro versions. The properties of the membrane (Gore Tex, Dremtech or other similar names) allow a very high level of breathability and waterproofing over time. Indeed the membrane maintained correctly (regular rinsing of salt deposits) retains its breathable properties over 5 to 10 years depending on use. These jackets are those used for ocean races such as the Vendée Globe, the Volvo Ocean Race and the Route du Rhum.
Offshore salopettes
As with offshore jackets, it is a matter of choosing the technology first according to the intensity of your sailing program :
Salopette 1 layer

 for occasional sailing in relatively mild weather.

2 layer salopette

 for cruises of 2 to 7 days in a more agitated environment and for a more regular practice.

3-layer salopette

 for the best protection sealing and breathability on the long term thanks to Gore Tex and equivalent membranes.
The rest is a mix of different cuts, the Long John or the Hi-Fit corresponds to offshore salopette rising very high on the chest and ending with integrated elastane straps that are more comfortable for regatta and active practice. Traditional salopettes with adjustable straps are more suitable for occasional practice. The last model will be for women with the Drop Seat cut which allows more comfort when going to the toilet .
There are also the dry suits which are the ultimate protection when conditions are at their wettest and coldest. From the waterproof suit for winter dinghy sailing to the floating survival suit that equips the great sailors during ocean races, each model corresponds to a different program and a more or less intensive practice.
Materials: Jacket in Gore Tex or equivalent?
In order to have a jacket that is both waterproof and breathable, the manufacturers each have their own technologies to meet the comfort of sailors. Thus, there are several types of membranes to allow perspiration to evacuate and liquid water to avoid passing through. The most famous of these are Gore-tex (used by brands such as Musto or Marinepool) or the DremTech (Guy Cotten).
For optimal waterproofness and breathability, 3-layer membranes are the best, so they are perfectly suited for intensive sailing. For winter, some jackets are even lined with fleece to keep warm.
Gore Tex technology is renowned in the industry for its ability to provide the ultimate in comfort and waterproofness. The material itself is microporous, allowing water vapour molecules to escape while preventing liquid water molecules from entering.
Women's offshore jackets?
There are also jackets and overalls that are specially tailored for women. For example, the women's watch jackets are more curved to allow for greater comfort and the Drop Seat cut allows for greater comfort when going to the toilet in overalls.
Our advice
Rinse with fresh water your shift jacket systematically after each use. It will gain in lifetime and the membrane will not lose its qualities.
Using a product waterproofing and regular cleaning for technical membranes.
The quarter jackets are large, refer to the size guide to choose the ideal size.
The watch jacket is not "Hot". For warmth you need an intermediate layer of fleece or primaloft. Adjust the layers to room temperature!
Be careful, your jacket will not breathe properly if you do not respect, as when skiing, the golden rule: Never wear cotton under technical clothing. Indeed, cotton can take up to twice its weight in water: your perspiration would thus remain trapped instead of being evacuated by the breathable properties of your quarter jacket.
You can personalize your jacket by asking us for a quote by email in clicking here
Plus, Picksea always offers a 10% discount% on a complete pack Jacket + Overalls + Boots
Linked products
<div class="fiche-txt"> <h2>Kara : the breathable Dremtech+ sailing jacket</h2> <p>Made from Dremtech + fabric, the Kara sailing jacket is ideal for offshore sailing. Indeed, its high fleece-lined collar protects you perfectly against the elements and its fluorescent yellow hood, which can be retracted into the collar, is completely invisible. Its flexible elastic adjustments allow you to adjust it to your face while avoiding water ingress on the sides. The hood follows the movements of your head, giving you a clear field of vision at all times. The hood also allows you to wear a helmet underneath. The Kara offshore jacket offers you maximum protection thanks to its waterproof neoprene inner sleeves and its liquette shape. This jacket has a double zip fastening for extra strength. It has 2 waterproof front pockets with hook and loop flaps and 2 hand-warmer pockets.</p> <h2>The advantages of the Dremtech + fabric, an innovation from Guy Cotten</h2> <p>Dremtech + fabric is made up of 3+ 2 layers, each of which has its own technical features. When combined, they ensure perfect efficiency.</p> <ul><li>the central part in 3 elements makes the link between the outer fabric, anti-abrasion and anti-tear, and the laminated inner lining which avoids the addition of an extra lining</li> <li>the central part of Dremtech + is made up of an intelligent membrane with a non-porous mollusc structure that allows condensation to evacuate when the body temperature rises, while remaining water and windproof due to its microporous coating.</li> </ul><h2>Features of the Kara Offshore Jacket</h2> </div>
available
<h2>VENTURI red watch jacket, waterproof and breathable</h2> <p>The VENTURI watch jacket is designed by Bermuda to bring you protection, waterproofing and breathability throughout your navigations. Its waterproof seams, its fluorescent hood, and its high collar lined with fleece, its reflective stripes, make it a versatile jacket, for coastal and semi-offshore sailing. Its mesh lining increases its breathability and air circulation, and its zipped pockets, 2 of which are fleece-lined, keep hands warm.</p> <h2>Features of the red VENTURI watch jacket</h2>
unavailable
available