available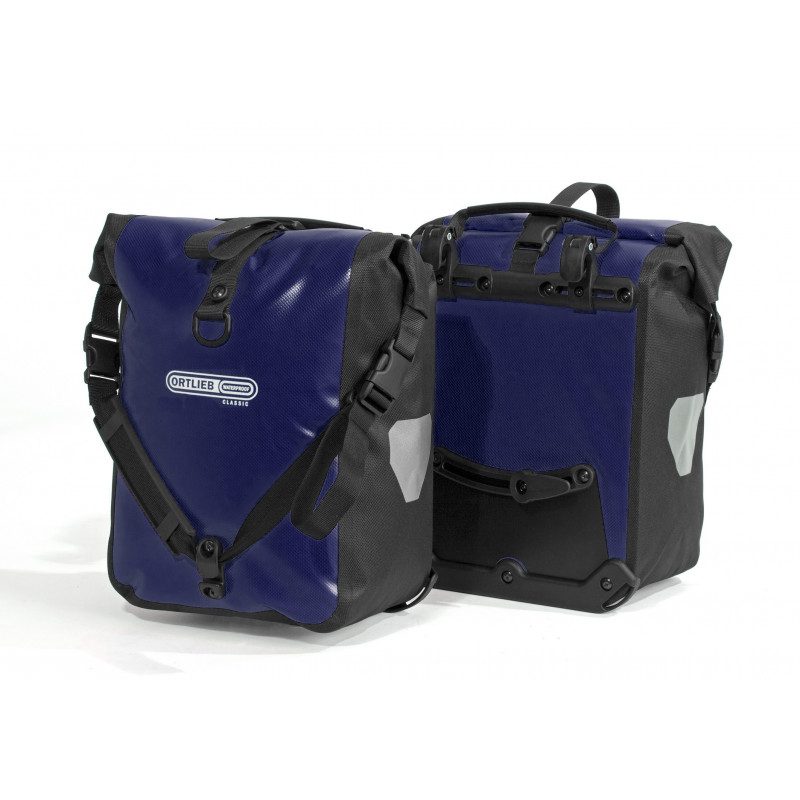 error Shipped according to supplier's deadline
Detailed features
Waterproof front panniers for lowriders
The Front-Roller Classic is a pair of front panniers for bicycles and is designed for use on low-rider front wheel racks or rear racks. This model can also be installed on a child's bike. The Ortlieb Quick-lock1 system allows you to quickly attach and detach this bag from your bike. They are rainproof (IP64) thanks to their robust material (heat-sealed polyester fabric) and their roll-up closure. Delivered in pairs, these bags include: an integrated interior pocket, large reflective strips and a shoulder strap.
Find the widest range of waterproof bags for bikes and boats on Picksea.com
Discover the wide range of waterproof bags, waterproof panniers, waterproof hulls and waterproof cases on our selection of the best brands for boats and nautical leisure activities. Ortlieb, Guy Cotten, Musto, Feelfree, Peli, all these brands are grouped in our selection for their original, performing products or simply the most requested by the professionals of the sea.
Detailed features of the Ortlieb Front Roller Classic bike panniers
Roll-up closure
Waterproof bag
Height : 30cm
Width: 25cm
Depth: 14cm
Weight: 1590g
Volume : 25L
Color: black, red, blue, yellow, grey
Download
Product description - Find all the information about the Front-Roller Classic on the attached PDF document.
You might also like 3 other products seleted for you
<div class="fiche-txt"><h2>The Back Roller Classic bike bags ( the pair ) :</h2><p>The Back-Roller Classic is a pair of bicycle backpacks. They can be easily attached to any bike rack and are rainproof (IP64) thanks to their robust heat-welded material and roll-up closure. They feature the Quick-Lock1 attachment system that fits all types of bike racks and guy ropes under 16mm in diameter. Delivered in pairs, these panniers include: an integrated interior pocket, large reflective strips and a shoulder strap.</p><h2>Detailed features of the Ortlieb Back Roller Classic bike bags</h2></div>

available

<p style="text-align: justify;">This bag can be attached to any handlebar with a tube diameter of up to 31.8mm. It has a magnetic closure with lockable lid, an inside pocket, reflective elements and a shoulder strap.</p><p style="text-align: justify;">The Ultimate 6 M Classic protects your belongings from water and dust.</p>

available

<div class="fiche-txt"> <h2>Ortlieb waterproof card holder for the Ultimate bike bag</h2> <div class="fiche-txt">This waterproof protective case for maps will be perfect for finding your way around on your bike. Measuring 27cmx27cm, it is designed to be attached to the upper part of the Ortlieb Ultimate 6 and Ultimate 6 Plus handlebar bags. It is waterproof and resistant to bending and UV rays. It has a hook and loop closure. There is a cord to put it around the neck, it is also possible to hang it on a kayak, a backpack, ...</div> <h2>Features of the ORTLIEBUltimate 6 Waterproof Card Case</h2> </div>

unavailable