available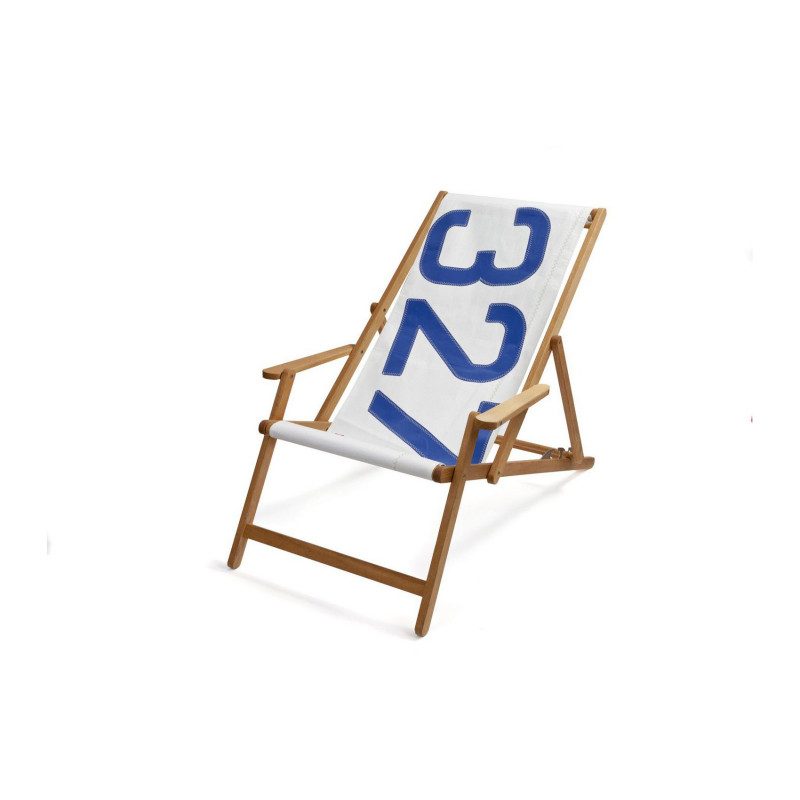 error Expédié sous 3 jours
Detailed features
A deckchair in oak and recycled sails to relax in the sun!

The deckchair with armrests and recycled sailcloth is designed with the number sewn in our iconic zigzag stitch. The lounger is adjustable in 3 positions (stainless steel notches) with removable sailcloth, for indoor and outdoor use. The deckchair with armrests is made of a solid oak frame and a 100% recycled sailcloth.
This product is made from 100% recycled sails that have been sailed. This makes it a unique product, which may look different from the picture shown. In particular, we keep the marks, folds and seams that carry the history of each sail.
Characteristics of the loungers
Certification : 100% recycled sail
Frame length: 152 cm
Frame width: 72 cm
Canvas: 138 cm x 50 cm
Sail collected and recycled in France
100% recycled sailcloth, removable, thanks to two rods positioned at the ends
Solid oak structure with armrests, resistant to outdoor use
3 positions, stainless steel adjustment notch
When used outside, it should be taken in at night and on rainy days. Occasional rinsing with fresh water and sponge cleaning if necessary
In the same category
2 other products seleted for you
<div class="fiche-txt"> <h2><span>A deckchair in recycled sails to relax in peace!<br /></span></h2> <p>The lounger with armrests and recycled sailcloth is designed with a fabric insert and a number sewn in with our iconic zigzag stitch. The lounger is adjustable in 3 positions (stainless steel notches) with a removable sail cloth, for indoor and outdoor use. The deckchair with armrests is made of a solid oak frame and a 100% recycled sailcloth.</p> <p><em>This product is made from 100% recycled sails that have been sailed. This makes it a unique product, which may look different from the picture shown. In particular, we retain the marks, folds and seams that carry the history of each sail.</em></p> <h2>Characteristics of the loungers</h2> </div>

available

<p style="text-align:justify;"><span>Single canvas for transatlantic made from recycled boat sails. This unique example is supplied with its authentication sheet which traces the origin of the sails used for its manufacture.</span></p>

available