unavailable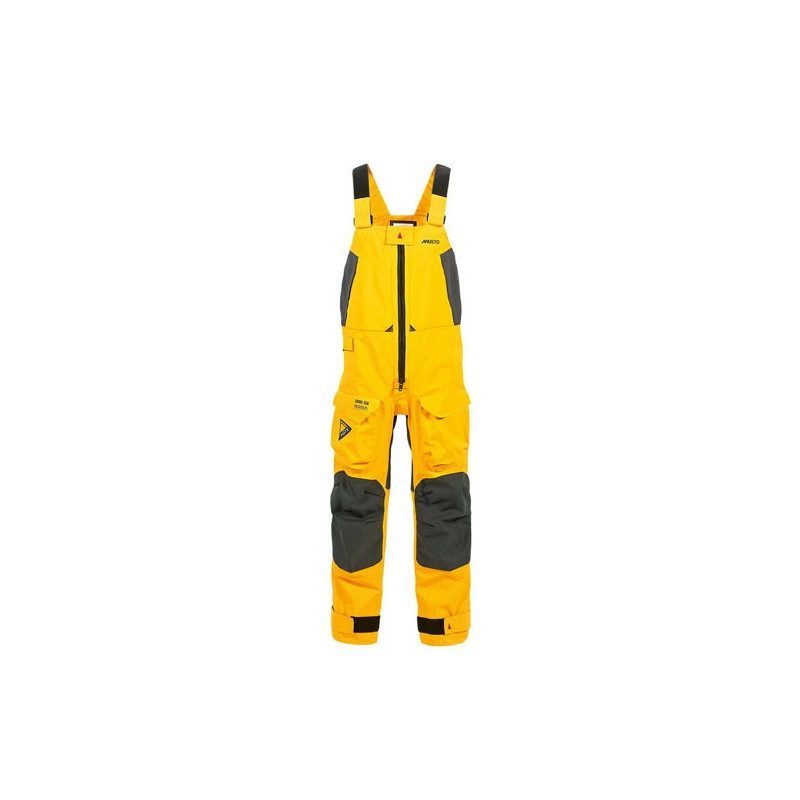 €499.34 Tax included -20% €624.17
clear Unavailable product
Detailed features
Musto HPX Watch Dungarees
The Musto HPX Dungarees complete with the HPX watch jacket the equipment of the professional sailors of the Vendée Globe and the Volvo Ocean Race. Developed for extreme conditions, it protects you perfectly from the wind, the waves and the rain while keeping a great breathability. Designed with Gore Tex technology, these watch overalls benefit from all the experience of the famous Musto brand in marine clothing. Therefore, choose quality and top-of-the-range with this model ideally developed to face all weather conditions while keeping you dry.
Equip yourself for deep-sea sailing
Picksea offers a wide range of marine equipment for offshore sailing, including watch jackets, dungarees, and more. In order to equip yourself well for offshore sailing, we have selected for you the best of the marine clothing among brands such as Musto. So compare our different watchkeeping overalls and, depending on your sailing schedule and expectations, order easily on the website. Picksea offers free shipping on orders over 150€. Have a question about the size? Check out the product size guide. Check out the Brands tab to find all our products, brand by brand, and discover many different types of technical clothing for cruising, racing and deep sea sailing.
Detailed characteristics of the HPX Ocean watch dungarees
3-layer Gore-Tex® membrane with Ocean Technology and Gore Micro Grid for unmatched waterproofing/breathability in the most extreme conditions
Adjustable Velcro straps
Hi-Fit Cover, designed to ensure extreme waterproofness when worn without a jacket, the HPX overalls ride high on the chest
Elasticated underarm tightening
Right hip strap for easy access to tools and knives
Two-way zipper made of synthetic materials
Articulated knees and seat to maximize freedom of movement
Tightening waist adjustment
Non-abrasive fabric seat and knee protection to prevent wear and tear
2 fleece lined chest pockets
Waterproof inner pocket
Extra wide velcro ankle straps for easy tightening
You might also like 3 other products seleted for you
<div class="fiche-txt"> <h2>Musto Race Gore-Tex boots</h2> <p>These technical boat boots are specially designed by Musto to keep your feet dry when sailing or racing. Stylish and high-performance, their reputation in the sailing world is well established. Designed in Gore-Tex, the best performing membrane on the market, these boat boots are part of the must-have cruising equipment and marine clothing for extreme conditions and offshore sailing. The Musto Gore-Tex range includes a whole range of clothing developed to face the worst conditions on board a boat, from the watch jacket to the boots.</p> <h2>Discover the Musto range of marine clothing and equipment</h2> <p>All the nautical equipment is on Picksea, your online shop to equip yourself and to face any weather conditions at sea, from the simple cruise to the regatta. Also, find the whole Musto collection on our online shop. The Musto brand is one of the references in terms of marine clothing.</p> <h2>Detailed characteristics of Musto Race Gore-Tex boots</h2> </div>

available

<div class="fiche-txt"> <h2>Musto HPX Ocean Technology Watch Jacket</h2> <p style="text-align:justify;">The Musto HPX watch jacket is the choice of professional sailors in the Vendée Globe and the Volvo Ocean Race. Developed for extreme conditions, it protects you perfectly from the wind, the waves and the rain while keeping a great breathability. Developed for the oceanic sailor and for very muscular sailing, it is based on a Gore Tex Ocean Technology membrane which consists of a Gore Tex membrane three times thicker than normal, laid on a reinforced fabric.</p> <h2>Discover the whole Musto collection on Picksea</h2> <p style="text-align:justify;">The Musto range is declined in 5 reference brands which adapt to different sailing programs, from BR1 (1 layer coating) dedicated to occasional inshore sailing, BR2 (2 layer coating) dedicated to regular cruising, LPX, MPX and HPX in GORE Tex membrane which will address the inshore, offshore and oceanic sailor and the deep-sea cruising </p> <h2>Detailed characteristics of the Musto HPX Ocean Jacket</h2> </div>

unavailable

<h2>The HPX Pro Series Jacket is the choice of professional sailors</h2> <p>Made of Gore Tex Ocean Technology membrane 3 times thicker than standard Gore Tex membranes and developed for extreme conditions, this jacket is an incomparable protection for tough and oceanic sailing. Its latex sleeves and high collar with spray protection make it one of the most successful professional products in the Musto range.</p> <h2>Discover the whole Musto collection on Picksea</h2> <p>The Musto range is declined in 5 reference brands which adapt to different sailing programs, from BR1 (1 layer coating) dedicated to occasional inshore sailing, BR2 (2 layer coating) dedicated to regular cruising, and the 3 ranges bearing the Gore Tex logo: LPX, MPX for the inshore or offshore sailor, and HPX which is aimed at the professional or the amateur with a particularly muscular offshore program.</p> <h2>Detailed characteristics of the Musto HPX Pro Series Smock</h2>

unavailable
In the same category
4 other products seleted for you